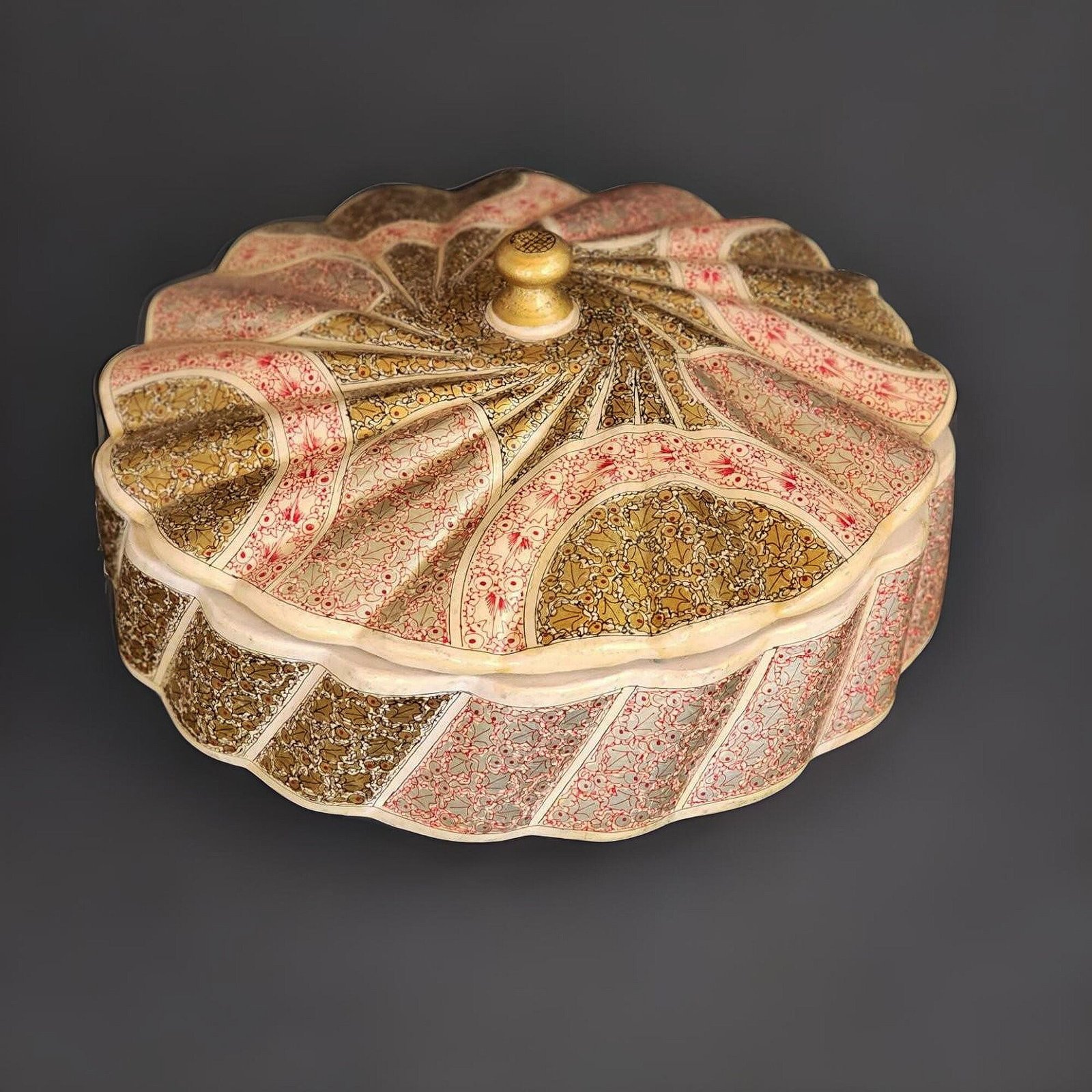 Paper mache bowl with lid, Painted with sycamore foliage , this is a Handmade Bowl for wedding gift and decoration-
Paper mache bowl with lid, Painted with sycamore foliage , this is a Handmade Bowl for wedding gift and decoration-
Description
Elevate your dining experience with our beautifully handcrafted Paper Mache Bowl with Foliage Design!
Made from recycled waste packing material and using the unique paper mache technique, each bowl is a true work of art, painted with exquisite foliage designs that will add charm and elegance to any table setting.
Not only is this bowl perfect for serving fruits, soup, cereal, and more, it is also a stunning decorative piece that will enhance the ambiance of any room. And if you're looking for a thoughtful and unique gift for her, a new home gift, or a mother-son gift, this paper mache bowl is sure to impress.
You'll love the durable and hard design of this bowl, with enamel coating and waterproofing to ensure that the artwork on its surface remains safe and long-lasting.
So why settle for a plain bowl when you can have a stunning and unique work of art? Order your Paper Mache Bowl with Foliage Design today and experience the beauty and charm of handmade craftsmanship in your home!
Keywords: Paper mache bowl, handmade item, gift for her, kitchen gifts, unique holiday decor, new home gift, mother son gift, soup bowls, cat bowl, cereal bowl, singing bowls, decorative bowl, ceramic bowls, dough bowl, yarn bowl, resin bowl, ceramic salad bowl, bowl holder, footed bowl, fish bowl, dough bowl candle, ring bowl, paper bowl, key bowl, wooden bowl, art bowl, strawberry bowl, pasta bowl, wood bowl candle, Halloween bowl
More products:
mughalarts.com
Reviews (0)